Migrate Veeam Backup and Replication 9 Server to new Server
I decide to migrate Veeam 9.0 U2 Server from Windows Server 2008 R2 (VM) to new Windows Server 2012 R2 (VM), migrate with all history, credentials and also backup and replication jobs !
You need:
MSSQL Management Studio on old and new server
.iso of Veeam Backup & Replication
patch 2 file
licence key
time !
Backup your old server !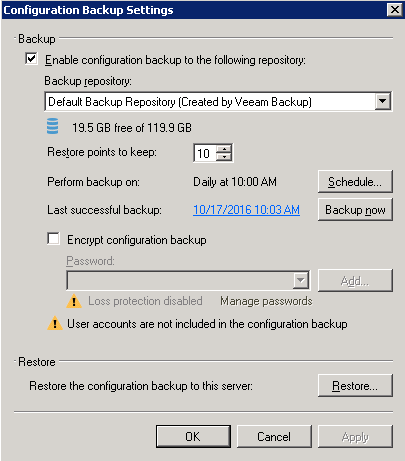 First of all, create backup of your old Veeam Server.
Now is time to stop Veeam services like:
Veeam Backup Catalog Data Service
Veeam Backup Proxy Service
Veeam Backup Service
 Veeam vPower NFS Service
Open MSSQL Management studio and Backup VeeamBackup database.
Run backup 🙂 and stop MSSQL service on old server !
New Veeam Backup & Replication Server
First of all download MSSQL 2012/2014/2016 express and SSMS (SQL Server Management Studio)
After install MSSQL + SSMS reboot your server !
Open SSMS and restore VeeamBackup database (just copy it to new server, dont forged copy your veeam config backup to)
Restore your VeeamBackup database.
Now you can install Veeam Backup & Replication
Click to "Let me specify different settings"
Add service account – in my case is domain\veeam
Use existing instance of SQL Server (we have restored db from old server with same name VeeamBackup)
hahaha… what now ? !
UPDATE

[

Version

]

SET

current_version

=

'2754'
Open SSMS and select VeeamBackup database. we need  change database version.
Install Veeam and Use existing instance of SQL Server.
Install latest Veeam B&R Update 2
On your new Veeam Server start Veeam console and go to Configuration Backup Settings > Restore.
Select Migrate
Select your backup file (config backup from old veeam server)
Now you can see backup contents
In restore options click to backup and replica catalog and session history.
Restore progress
you can restore credentials
Restored !!! All job, all history all credentials !