Veeam Backup and Replication v12 and direct backup to Wasabi S3
Veeam v12 is GA and biggest feature direct backup to S3 storage is here ! Its time to try it with Wasabi S3 storage. In this article we will follow these steps 
 wasabi account
 access key
bucket which is locked (ransomware protection)
 veeam s3 repository
direct bacup job to wasabi S3 
run instant recovery from wasabi S3 repository
Let's go ! 
All we need is Wasabi account, we can use a 30 day trial, which is free and without credit card. 
The second step is create Access key and copy the access-key and secret-key to some location like notepad 🙂 
Now is time to create our first bucket, so select the bucket name and choose region and click to next. 
Enable Versinioning and Object Lock – the main ransomware protection and click to next and create bucket. 
Now we have a created access, bucket and last step is create a folder in our bucket. 
In VBR 12 go to Backup repository and create new repository and choose Object Storage
another veeam v12 feature is "Wasabi Cloud Storage" so lets go with Wasabi 
set name and description
when i created a bucket i choose the AMS location so my region is "eu-central-2" 
in my case is region "eu-central-2" and on the credentials type your access-key and secret-key and click to next. 
select the bucket and folder, which we create on Wasabi portal and setup make backup immutable for 7 days (if you want delete backups, you have to wait for 7 days of course, this is the power of the object storage and main ransomware protection) and you can configure maximum object storage consumption
the mount server is very important, because if you start instant recovery from Object Storage, the cache is redirected to selected folder, will be nice to be placed to SSD storage 🙂 click to next next next and we have created a Wasabi S3 repo. 

Wasabi S3 repo is ready to use ! 
create new backup job as usual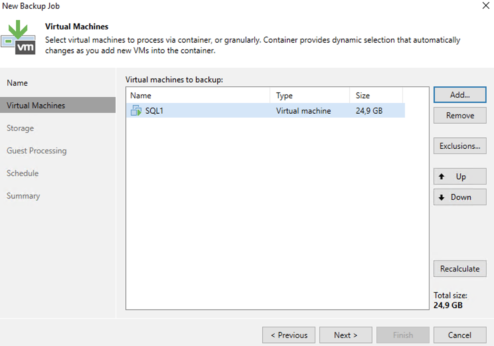 select some VM, in my case the SQL1 with MSSQL Express 2022 for my lab 
as backup repository choose My Wasabi, which we created and click to next next next like usual and run the backup job 
in my case is bottleneck source, because i have limited sources of speed of "internet" in my lab, but 82MB/s is ok for lab infrastructure 🙂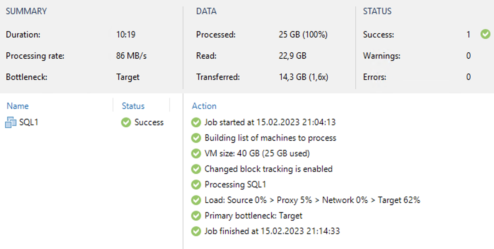 afters some minutes we had backup job successfully finished. 
The one of the very nice feature on the S3 direct object storage backup is Instant Recovery from S3 Object Storage. So what about test the Instant recovery from Wasabi S3 to my vmware lab infrastructure ? of course, i have a limited speed of internet so instant recovery is little bit slow, but for my testing purposes is ok
i wanna restore to new location with different settings 
choose the name and host for instant recovery 
of course you can redirect write cache to datastore on your ESXi host, but this is normal option when you start a instant recovery job, not only for S3. 
i click only to Power On without network, because my source VM is running
after few minutes, the NFS datastore is connected to ESXi node and Instant Recovery running. so VM is registered and slowly booting ( slow internet connection) 
now i can login to SQL restored from S3 Wasabi repository
if is everything OK, we can migrate to production from S3 repo to datastore in ESXi node. 
of course, you can choose the datastore, click to next and run the quick migration from S3 Wasabi storage to your local/shared datastore which is connected to ESXi host. 
after few minutes is VM ready to use. 
So this is my post about the Veeam Backup and Replication v12 and Wasabi S3 Object Storage. In my opionion, the object storage is feature and traditional repository on windows will be "dead" because lot of ransomware attacks in these times. I had experience, that customer had erased backups, encrypted whole vmware infrasctructure and erased tapes, because the tapes was ONLINE, so i think that next-gen backup storage have to be immutable and backups to S3 compatible storage is what we need. Yes i know about the limitations like wan connectivity speed, but its opportunities for on-premise S3 compatible storage. In the end S3 backup storage is not only for VBR v12, but also for Veeam Office 365 v7, which will be released in few days and supports direct backup to S3 🙂 
In the end, when the attacker want delete backup, which is on the Wasabi S3 storage, we have object lock with immutability 🙂 ransomware proof backup and THIS IS IT ! 
(Visited 94 times, 1 visits today)